Ronco Chef N' Go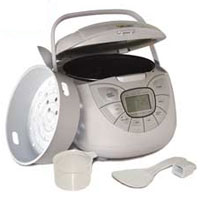 Ronco Chef & Go is the amazing convenient and portable cooker that lets you set it and forget it.
The Chef & Go Cooker does it all. It bakes, cooks, simmers, steams and browns.
It even reheats while locking in flavors and nutrients. Plus it can keep your food warm for up to 24 hours.
The different cooking mode ensures foods are cooked to perfection every single time.
This amazing Ronco Chef and Go cooker does it all and makes dishes which traditionally required many different bowls, pots and pans.
It uses the intelligent Ronco's Intellicook Microchip technology which does the thinking for you, leaving you free to do other tasks.
The Chef and Go has a 2 quart capacity which is large enough to feed a whole family. Plus you can cook one dish on top and one on the bottom in order to save even more time.
Get the Flash Player to see this player.
You can order the Ronco Chef & Go for 4 easy payments of $29.95 plus shipping and handling or 1 easy payment of $119.98 plus shipping and handling.
Update: This offer has expired