Miracle Blade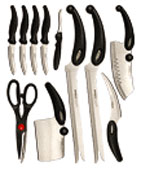 The Miracle Blade III Perfection Series is the last set of knives you ever need to buy. Miracle Blade knives are designed to stay sharp for a a lifetime – guaranteed.
Miracle blade knives are designed and engineered with a look, feel and cutting ability that's revolutionary. They are made with the highest standards of German stainless steel.
The Miracle Blade III Perfection Series knives never dulls, never needs sharpening and give even the most inexperienced chef precision control over every single cut they make.
A set of Perfection Series includes:
1 Miracle Blade slicer
1 Rock 'n Chop
1 Filet & Boning knife
1 Chop 'n Scoop
1 Paring knife
1 All purpose kitchen shears
4 Steak/Utility knives
Tips & Guide booklet w/Chef Tony recipes
In addition, you can get a free Santoku all purpose kitchen knife with the set. You just have pay the additional shipping and handling costs.
Get the Flash Player to see this player.
Right now Miracle Blade is offering a buy one get one free offer of their Perfection Series. That means you can get two sets of Miracle Blades for just $39.95 plus the cost of shipping and handling.
Update: These knives have been replace with the newer Miracle Blade World Class Series