Miracle Blade World Class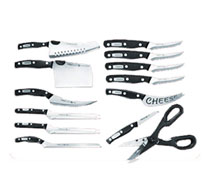 Chef Tony is proud to present the new generation of his Miracle Blade knives with the Miracle Blade World Class Professional Series.
These knives allows for precision cutting, slicing, dicing and chopping. Best of all they are guaranteed to stay sharp and never needs sharpening.
Miracle Blade World Class knives features a fresh new look and comes with perfectly balanced handles that are improved and is mad with flash forged technology.
Like previous Miracle Blade sets, this new series also comes with a lifetime guarantee. Should the knives every dull or break, even if it's your fault, all you have to do is send it back and you'll receive a new replacement.
The Miracle Blade World Class Professional Series comes with these 13 knives:
2 Slicers
Carving Knife
Rock & Chef
Chop & Scoop
Filet Knife
Cheese Knife
4 Steak Knives
Paring Knife
Pair of Kitchen Shears
 You can order the Miracle Blade III knife set for $60 plus shipping and handling. It comes with a 30-day money back guarantee.
Plus as a special bonus you can add the Miracle Blade 3-in-1 Peeler with a Triple Blade Design to your order for just $9.95 plus shipping and handling. It is perfect for peeling fruits to vegetables.