GT Xpress 101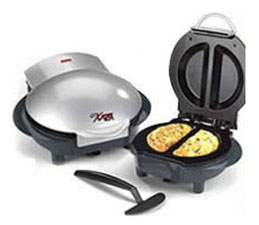 The GT Xpress 101 is an amazing and cooker that lets you make variety of over a hundred delicious meals.
It makes quick, easy, healthy and delicious meals in minutes, making it perfect for busy moms, students and anyone with a hectic schedule.
The GT Xpress 101 has a high quality non-stick cooking surface that allows you to cook without oil for a healthier meal.
The Dual cooking technology of the GT Xpress heats food from the top and bottom at the same time to cut cooking time by 50%.
Now you no longer have to worry about turning food or slaving over a hot stove. Plus you can reduce your energy bills by using the GT Xpress 101 instead or your oven.
The GT Xpress 101 easily fits into your kitchen with a compact design and built-in power cord.
Get the Flash Player to see this player.
The GT Xpress 101 costs just 2 easy payments of $19.95 plus shipping and handling. It comes with 4 free gifts that includes a  Pocket Maker, Flavor Injector, Spatula and Recipe Book.
But wait there's more. Right now when you purchase the GT Xpress 101, you'll get a second free. That's right free. Just pay additional shipping and handling costs.