Grillex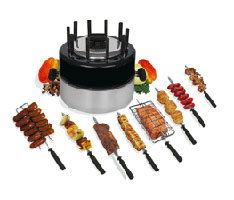 Grillex is the amazing smokeless indoor and outdoor grill that drains away the fat in order to deliver healthier meals.
It is great for  special events whether it is backyard gatherings, tailgating or camping. You can use the  Grillex on virtually any gas burner, from the kitchen stove to a side burner.
The versatility and portability of the Grillex is unmatched. You can cook  a wide variety of your favorite foods from appetizers, simple or gourmet meals, and even desserts.
Get grilled tenderlion cooked to perfect texture indoors in under 20 minutes. Use it to make pretzel twists and to prepare desserts, vegetables and much more.
To use the Grillex, just place it over a gas burner after the food is placed inside on the skewers. The baskets will suspended the food vertically around the flame.
A circular diffuser inside the Grillex evenly convects the heat in order to create  a perfect environment for your meats, vegetables, fruits and more. A full meal can be cooked in less than 20 minutes.
Get the Flash Player to see this player.
Included with the Grillex are a set of 5 stainless steel skewers, 1 stainless steel double skewer, 1 chrome plated basket, and a full color instruction manual.
Order the Grillex today for just $79.98 plus shipping and handling. Or you can also make 2 easy payments of $39.99 plus shipping and handling.
Update: This offer has expired