Butterball Indoor Turkey Fryer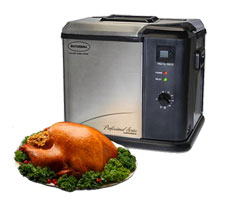 Now you can become a star chef with the Butterball Indoor Turkey Fryer. It is one of the best kitchen appliances you well ever own.
The Butterball Indoor Turkey Fryer can cook turkeys that are up to 14 lbs in just under 1 hour. Plus it delivers the juiciest and most tender results.
In addition, it uses a third less oil than conventional turkey fryers. This means there is less waste and you get healthier, lower-fat frying.
The foolproof operation of the Indoor Turkey Fryer delivers the same delicious results every single time. There is a control panel that has a digital timer and an easy-to-use temperature control.
Also there is a included specially designed cooking basket, complete with a handy drain clip. It lets you fry a variety of favorite foods like doughnuts, french fries, onion rings, and much more.
In addition to being a fryer, the Butterball Indoor Turkey Fryer also doubles as a steamer and boiler. It is versatile enough to steam fish, chicken, and all your favorite vegetables.
Get the Flash Player to see this player.
You can order the Butterball Indoor Turkey Fryer for $159.96  plus the cost of shipping and handling. It comes with a 90-day limited warranty.
Plus with your order you'll also receive a set of free bonus gifts. It includes a $5.00 off Butterball turkey coupon, Butterball Carving Gloves, a 3 piece set of  vacuumed sealed lids, a 2 piece caring prep sheets, an instructional DVD and coupons for up to $250 in savings toward future products.