Fun Slides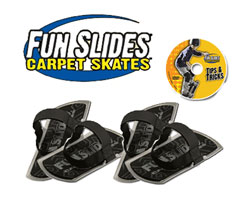 Now kids can have a blast wherever there's carpet with Fun Slides, the amazing carpet skates.
Fun Slides lets you have fun and get exercise indoors. It is great for a rainy day or when it is snowing.
These amazing carpet slides are endorsed by the National Parenting Center's Seal of Approval and is a winner of many prestigious awards.
Fun Slides are made of friction defying smooth plastic, allowing you to blast off on carpet. Plus the gripper groves on it provides traction.
Kids of all ages love Fun Slides.  Since they are one size fits all, they make a great holiday, birthday, or any-day gift for any kid age 6 and up.
Get the Flash Player to see this player.
Fun Slides are available in 6 different colors. They are Black, Red, Neon Pink, Neon Green, and Neon Blue. Normally a single pair of Fun Slides retails for $19.95 but right now there is a buy 1 get 1 free offer.
That means you'll get 2 pairs of Fun Slides for just $19.95 plus the cost of shipping and handling. As a special bonus you also receive a free  Fun Slides Tips & Tricks DVD with your order.