The SlipOver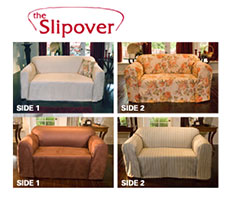 Make your old and beat up sofa like new over and over again with the SlipOver. It is the only dual sided, reversible slipcover.
The SlipOver is a one-piece universal fit slipcover that is guaranteed to fit any sofa up to 8 feet length. It is made of comfy, cozy fabric that is also highly stain resistant.
With the patent-pending dual sided design it is like getting two sofa makeovers in one. Just slip it over then tuck it in and you'll have a new looking sofa.
Don't waste your money on custom upholstery or new sofas which can cost a fortune. With the SlipOver you can give your sofa an instant makeover.
It is machine washable so if you get it dirty or stained you can just toss it in the washer, it won't shrink or fade.
Get the Flash Player to see this player.
The SlipOver is available in 2 great style combinations. Choose from Tan and Floral or Chocolate and Striped. They are both just 3 easy payments of $29.99 plus shipping and handling.
Plus you'll also receive 2 free Coordinating Reversible Pillow Covers and also a Add-On Organizer. With it you'll never lose your remote again.
Update: This offer has expired