Seat Savers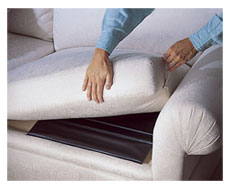 Seat Savers are the easy solution for fixing the sagging cushions on couches, sofas or arm chairs. It will restore the comfort and firmness.
All you have to is place the Seat Saver under the sagging seat cushion and it will instantly restore firmness and stop the seat from sagging.
The Seat Saver is made with a sturdy fiberboard that is covered with vinyl that can easily be wiped clean.
Paying for upholstered sofa replacement cushions or buying new furniture is expense but Seat Savers is affordable and quick.
There is need no to buy costly new furniture when you can easily restore the firmness back to almost when the furniture was like new. You can be trim Seat Savers to get a custom fit for any furniture.
Get the Flash Player to see this player.
Normally a single Seat Savers costs $9.95 plus shipping and hanlding but with this double offer you'll get a second Seat Savers for free. You just have to pay the additional shipping.
The 2 Seat Savers are enough to fix 2 chairs, small couches, love seats or even a partial repair of  a full sized couch. This offer is not available in stores.