Riddex Plus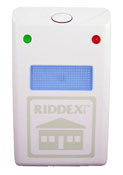 Riddex Plus is the  fast easy way to help get rid of mice, rats, and roaches without chemicals. It is a digital pest repeller that uses a patented digital pulse technology.
Forget about buying traps, or having strangers come into your house to spray poison. The Riddex Plus is completely safe for children and household pets, including dogs, cats, fish and birds.
Riddex has been laboratory tested and proven to be effective. A single unit can cover an entire level of a typical home. It will not interfere with any electronic equipment. 
The secret behind the effectiveness behind Riddex Plus is a Freescale Microprocessor, that helps create an irritating environment for pests inside your walls. This chases roaches and rodents out of your house and prevents future pests from entering.
Riddex Plus also doubles as a nightlight and comes with a LED indicator. Over 3 million units of Riddex have already been sold.
Get the Flash Player to see this player.
Right now with this special buy 1 get 1 free offer, you can get 2 Riddex Plus units for only $29.95 plus the cost of shipping and handling.
Update: This offer has expired