Hang Rite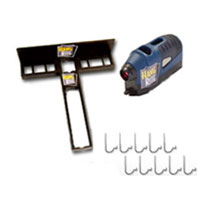 Hang Rite is the easy and quick solution for hanging pictures straight. It lets you hang pictures evenly with only just one nail hole.
Trying to hang pictures in just the right spot by yourself  can often be difficult. You may set it too high, too low or it can be crooked.
But using the Hang Rite solves all those problems. It is the smart tool that makes hanging a picture straight simple and easy.
All you have to do is first place Hang Rite on the back of your picture. Afterwards you slide the marker bar right up to the wire, hook or bracket.
Next you put the Hang Rite against your wall and it shows you exactly where the nail hole should. Just mark the spot and then make hole.
You can now hang your picture evenly with only a single nail hole. It is perfect tool for grouping pictures and the built-in measuring tool will even help you space multiple pictures like a pro.
Get the Flash Player to see this player.
The Hang Rite kit comes with the Hang Rite Tool and a set of 10 free Hang Rite Hooks which lets you hang without having to use any nails or hammer. They can hold up to 150 lbs each and all you have to do is push, set, and hang.
You can order Hang Rite for just $14.99 plus the cost of shipping and handling. As a bonus, you'll also free Hang Rite Laser Level with your order. It is a laser line that helps you hang pictures and decorations across the room. All you have to day is pay for the extra shipping and handling cost for it.
Update: This offer has expired