VeggieCal-D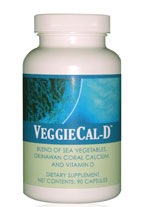 It is well known fact that the healthiest cultures on the Earth get their nutrients from the ocean. It is also a well known fact that the sun is the source of life.
VeggieCal-D combines the the nutrients of the ocean and sun along with the benefits of Vitamin D into one powerful supplement.
It is formulated with a blend of powerful sea vegetables, the highest grade Okinawan coral calcium, and 2000 IU of vitamin D.
Sea vegetation provides a balanced source of different essential nutrients. Ocean and sea algae is nature's richest source of minerals, trace minerals and rare earth elements. It offers nutrients that can no longer be obtained from land grown crops.
Taking Veggie Cal-D will have you eating right and feeling great as you feed your body with the nutrients it needs.
Benefits includes promoting a healthier heart, strengthening the immune system, supporting bones and joints, increasing vitality, alleviating PMS symptoms, and more.
Get the Flash Player to see this player.
 A bottle of VeggieCal-D last for one month and costs $49.95 plus shipping and handling. If you order 2 bottles at once, you'll receive 1 for free.
Update: This offer has expired