Thin N Sexy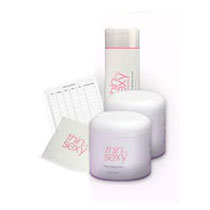 Thin N Sexy is a 60 minute spa quality wrap that you can do right in your very own home. It is a temporary inch loss system that also tightens and tones the skin.
The Thin N Sexy Body Sculpting Cream works by absorbing quicklin into the skin and helps you lose inches temporarily in the targeted areas.
First measure your target areas,  then apply the cream, and just sit back and relax while it does the work. Measure again when you're done and you will see the results.
In addition to help you lose inches temporarily, the Body Sculpting Cream also contains herbal ingredients that are specially formulated to tighten and tone the skin.
To use the Thin N sexy system, you simply apply the Body Sculpting Cream sparingly to the desired areas and then of your body and then firmly cover them with the included Plastic Wrap. Afterwards you relax for about 45 to 60 minutes when the treatment does the work.
Get the Flash Player to see this player.
A 60-day supply of the Thin N Sexy kit comes with two 4 oz. bottles of Body Sculpting Cream, 200 feet of Body Sculpting Wrap, a Measurement Progress Chart and an Instruction Booklet.
Order Thin N Sexy today for $19.95 plus the cost of shipping and handling. It comes with a 60 day money back guarantee.