My Snoring Solution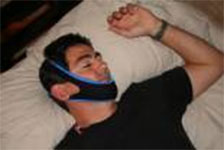 My Snoring Solution is one of the most effective anti-snoring solution available today. It is a jaw supporter that you wear before going to bed.
The design of My Snoring Solution helps open up the throat's airway while you sleep and effectively reduces or even completely stops snoring.
My Snoring Solution is clinically proven to help reduce or eliminate snoring, obstructive sleep apnea, depression, and daytime fatigue. The product has been featured before on the American Medical Review television series.
It is the consumers choice for comfort when it comes to snoring aids. It has been voted as the worlds most comfortable and effective anti-snoring product.
Snoring research has shown that a jaw supporter reduces air velocity and soft tissue vibration. The supporter keeps the lower jaw in an upward position and increases the three dimensional space in the airway of the throat. This helps eliminate or substantially reduce snoring.
Get the Flash Player to see this player.
Order My Snoring Solution now and you'll receive a American Medical Review DVD and a 7 Steps to Sleep Success book free. My Snoring Solutions comes with a 90 day money back gurantee.