LightStim For Wrinkles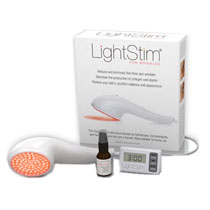 LightStim For Wrinkles can help eliminate wrinkles in just a minutes a day. It is a home version of the same professional anti-aging light therapy treatments done by doctors.
But now you won't have to pay over $100 per treatment or make multiple trips to the doctors. LightStim uses the same professional-style LED light technology used by doctors for excellent results at home.
LightStim is FDA-cleared as a medical device for the treatment of wrinkles. It is is completely safe, non-invasive, gentle on the skin, and easy to use. Plus there is no recovery time like with other anti-aging treatments.
It works by emitting a therapeutic wavelength of amber, red and infrared lights. These therapeutic wavelengths help stimulates skin cells and increase natural collagen production.
An increase in the production of collagen will naturally reduce wrinkles and make the skin smoother, firmer, appear younger and more radiant. Stimulating collagen production through light therapy has been used and recommended doctors and professionals for over 10 years now.
Using LightStim is fast and easy. You just turn it on and hold it still and position it so that your skin absorb as much light as possible. A single treatment only takes 3 minutes so you can easily find time for fit no matter how busy your schedule is. Just continue using LightStim 5 to 7 times a week and you'll start seeing noticeable results.
Unlike other beauty creams and lotions which just masks and conceals wrinkles and various signs of aging skin, LightStim for Wrinkles delivers lasting results. It actually refreshes your skin and reverse fine lines and wrinkles.
Get the Flash Player to see this player.
The LightStim For Wrinkles kit includes LightStim for Wrinkles, a Power Adapter, and an Optional Eye-Comfort Goggles to wear during treatments. It sells for $249.95.
However you currently take advantage of a 30-day trial and try LightStim for 30 days first risk-free. You just have to pay a trial fee of $14.99 and it even comes with free shipping and handling.
As a special bonus for trying LightStim you'll also receive a free bottle of the Collagen Peptide Serum as well as a free Treatment Timer for timing your LightStim treatments.