Juvenon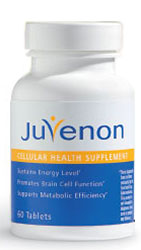 Juvenon is the first cellular health supplement of its kind. This crtically acclaimed anti aging solution is the first supplement to contain acetyl-L-carnitine (ALC) and alpha lipoic acid (ALA).
Juvenon has been called "the pill that can end aging"  and "the first real, safe anti-aging formulation in our lifetime".
The patented Juvenon Cellular Health Supplement formula provides a balanced ratio of nutrients which have been shown to boost mitochondrial levels and slow cellular aging.
With Juvenon you will get a healthier and younger body. Benifits includes higher energy levels, a sharper mind, improved mental clarity,  more restful sleep,  younger looking skin, and lower blood pressure levels.
Juvenon uses patented technology developed at the University of California, Berkeley that prevents and undos the decay of mitochondria in the body's cells and protects tissues from toxic oxidants.
Get the Flash Player to see this player.
A 1 month supply of Juvenon costs $33.95. Currently there is a special 30-day free trial offer where you can try Juvenon by paying $3.32 for shipping and handling.
Or you can order a 3 month supply of Juvenon directly for the discounted price of just $26.63 per month and save 30%.