FRS Healthy Energy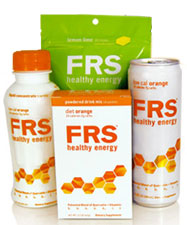 FRS is a healthy energy drink system developed after 7 plus  years of scientific research. It contains a breakthrough antioxidant energy formula with powerful nutrients and key vitamins to help you naturally increase energy and stay healthy.
FRS helps boost energy levels, enhances metabolism, increases focus, and supports the immune system. It contains quercetin, a natural antioxidant which helps extend the body's natural adrenaline as well as neutralizing the oxidants in the body that causes fatigue.
Joining quercetin to keep your energy level on are key vitamins and potent antioxidants from green tea leaves.  This makes FRS Healthy Energy products perfect for athletes.
Get the Flash Player to see this player.
With this exclusive online only offer, you can try a FRS Health Energy System Starter Kit for free. The kit includes a Low-Calorie Ready to Drink Can, Low Calorie Powder mix, Soft Chews, and a bottle of Low Calorie Concentrate. You just have to pay $6.95 for shipping and handling.
Update: This offer has expired