Body Back Buddy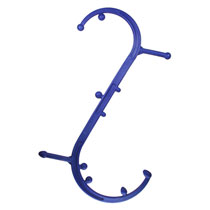 Treat hard to reach sore muscles effective and quickly with the Body Back Buddy Trigger Point Massager.
The open and natural S shape design lets you reach all the muscle groups of the body, including the back, neck, shoulders, chest, arms, hands, buttocks, hips, legs and feet.
By varying the amount of pressure you are applying and the angle you can release tension in your  spastic and knotted muscles.
The Body Back Buddy was developed from years of feedback from massage therapists, chiropractors, and physical therapists. The design features 11 therapy knobs which stimulate between muscles and pinpoints trigger points for a more effective treatment.
It has been engineered to be lightweight, strong and easy to use. It is excellent for the back or neck and great for the legs, arms, chest, feet, and hips.
Just hook the Body Back Buddy over your shoulder, around your side. or the where the problem area is so an therapy knob touches the affected muscle. Push away so pressure is being applied and it'll treat the sore muscles.
Get the Flash Player to see this player.
The Body Back Buddy also comes with a Reflexology Guide and Instruction Guide. It sells for $29.99 plus shipping and handling.
As a bonus you can also get a free relaxing scalp massager with your order. You just have to pay the additional shipping and handling for it.