Belisi RX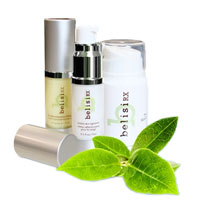 Belisi RX instant skin tightener is your prescription to beauty. It instantly delivers dermatologist results similar to treatments that require multiple applications and significant waiting to take effect.
Belisi RX uses organic green tea in a proprietary delivery mechanism that can give you tighter skin today and healthier skin for the rest of your life.
In addition to organic green tea, Belisi RX also utilizes a powerful combincation of other effective and all natural ingredients
This includes peppermint oil, shea butter, teprenone, hyaluronic acid, squalene, arnica, hydrolized rice bran, vitamin K1 and more.
The benefits from using Belisi instant skin tightener includes
Instantly toning and tightening the skin
Produces results in one application
Improves silk elasticity
Uses medical grade ingredients
Mimics procedures performed in doctor's offices
Get the Flash Player to see this player.
The retail price of Belisi RX is $49.95 per bottle. But right now there is a special buy 1 get 2 free offer available where you can get a total of three bottles of Belisi RX for just $69.95 plus the cost of shipping.
In addition, the company is also offering a 14-day free trial where you can try Belisi RX for $1 plus $14.95 for expedited shipping.
But wait there's more. Right now with both offers Belisi will even include a bottle of their DNA Miracle Cream and a bottle of their Eye Rejuvenation Complex free. That's right free.
Update: This offer has expired