30 Second Smile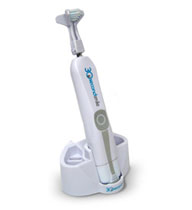 The 30 Second Smile is the revolutionary toothbrush that brushes your teeth perfectly every single time to keep them clean and healthy.
After using 30 Second Smile you'll never go back to using an ordinary toothbrush ever again.
It features 6 microbrush heads that surround your teeth in soft bristles and automatically cleans the top, bottom, front, back and biting surfaces, all at the same time.
Brushing with 30 Second Smile for only 30 seconds is like brushing 3 minutes with a regular single headed toothbrush.
It will keep your teeth as shiny and clean as the day you left the dentist's office. It can reverse gingivitis in just 2 weeks.
The 30 Second Smile System includes:
30 Second Smile unit
Designer stand
2 sets of brush heads-ultra soft and standard
Professional tongue scraper
Convenient travel case
Quick Start Guide
Instructional manual
Get the Flash Player to see this player.
The 30 Second Smile system costs just 2 easy payments of $29.95 plus the cost of shipping and handling. Right now you can even try first risk free for 30 days by paying the shipping and handling cost of $14.95.