Swirly Hair Clip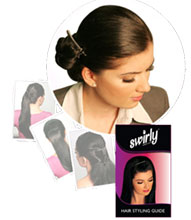 Now you can style your hair without the cramp with the Swirly Hair Clip. Unlike other hair clips, it won't pull your hair so you can style with ease.
The Swirly is a comfortable spiral hair clip that flexes and holds your hair firmly without tearing. Plus it won't leave any creases or dents when you remove it.
With the Swirly you simply just slide and close. It will hold your hair firm enough to use at the gym or while exercising.
At the same time the Swirly is comfortable enough that you can rest your head on any surface. You can even sleep in them.
The Swirly comes in beautiful gold and silver. The Swirly Gold Set is layered with 24K gold for an elegant look.
Get the Flash Player to see this player.
A set of Swirly include 3 sizes; small, medium and large. Plus it comes with a free travel bag and a styling guide that shows you beautiful hair styles you can create with the Swirly.
Currently with this buy 1 get 1 free offer you can get both sets of the 24K Gold Swirly and the Silver Swirly for just $10 plus shipping and handling.
Thats 3 Gold Swirly, 3 Silver Swirly, 2 Travel Bags and the Hair Styling Guide for only $10 plus shipping and handling.
Update: This offer has expired