Maxiglide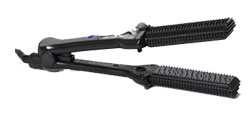 Maxiglide is a revolutionary hair styling tool that makes all traditional flat irons irrelevant. It is the result of almost seven years of research and over one thousand test designs.
With Maxiglide's unique design, you can create smooth, shiny, straight hair up to five times faster. There is no need to blow dry your hair smooth first.
The key to Maxiglide is the multi-patented design which includes multiple rows of detangling pins, steamburst system, protective ridges, and ceramic technology.
Maxiglide is the world's only straightener with detangling pins, ASTA (Advanced Seamburst Technology), and protective ridges that can take your hair from frizzy to smooth, from to shiny and straight, in just one single step.
Maxiglide comes in two versions. The Maxiglide MP with 1 1/4″ plates for all hair types and  a Maxiglide XP with 2″ plates for coarse and thick hair types.
Get the Flash Player to see this player.
The company is so sure you would Maxiglide they are currently offering a 30-day trial offer of the product. You just have to pay $14.99 for the cost of shipping and handling. The retail cost of Maxiglide is $120.
That's not all, when you order Maxiglide you'll also get free bonus gifts. This includes a free Miniglide, trial size of The End, trial size of Beyond Straight, the Secret Styling Tips DVD, a Maxius Detangling Brush, 2 Adjust A Curl Rollers, and 2 Maxi Clips.
Update:  This offer has expired