Hot Huez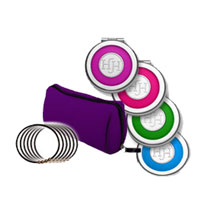 Hot Huez are temporary hair chalks that can provide your hair with eye popping colors. They'll instantly transform your hair from dull to vibrant.
Unlike highlights and dying your hair, Hot Huez is temporary and can be washed off with shampoo. So you can easily add and change colors as often as you like.
It is fast, fun, and easy to get crazy cool hair colors without any commitments. Hot Huez easily glides onto your hair and there are no dyes, no sprays, and no messes .
You just choose the hue you want and then slide the specially designed Hot Huez compact along a strand of hair. The color will glide right on and stay there until you wash it off with shampoo.
Hot Huez will work on all hair types It doesn't matter if it is long or short, curly or straight, blonde or brunette. For best results, the hair should be oils, sprays, treatments, and other hair care products.
With Hot Huez hair chalks you quickly and easily match any wardrobe or look.  Whether it's for a rocking day or a special night, you can instantly create glamorous hair colors that stand out.
Get the Flash Player to see this player.
The Hot Huez Hair Chalk kit includes 4 different colors. It includes Fiery Fuchsia, Hot Pink, Neon Green, and Electric Blue hair chalks in the specially designed no mess compacts.
In addition to the 4 Hot Huez Hair Chalk colors you'll receive 6 Hot Huez Pony Bands and a Carrying Case for absolutely. You can order Hot Huez for just $14.95 plus shipping and handling.