Tapout XT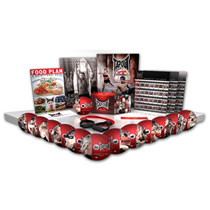 Tapout XT is a mixed martial arts (MMA) style, extreme home fitness program. It is a 90-day program that can help you lose weight, build lean muscles, and get ripped.
The workouts in TapoutXT was created by fitness expert and pro MMA trainer, Mike Karpenko. He combines cardio, strength, core and power exercises and also incorporates  fun and challenging MMA inspired kicks, punches and elbows in the exercises.
Each workout can burn as much as 1,200 and it only takes 45 minutes a day. There's a total of 12 super-charged MMA style workouts  that will melt away pounds, take inches off your waist and transform your body.
Tapout XT is designed to use your own body weight and resistance bands to get you into shape. It can be completed at home and there's no weights,  no pull-up bars, and no gym membership required.
The principle behind Tapout XT is called RIPP. It is based on an explosive bursts of strike and kick combinations combined with targeted resistance and power training. These moves help fire your metabolism, build lean muscles, and can burn a ton of calories.
Mike Karpenko has used his decades of experience from training professional athletes and pro MMA fighters to create this ultimate MMA style home fitness program. In each of the workout DVDs, Mike guides you and helps motivate you to finish the Tapout XT program and get extreme results.
Get the Flash Player to see this player.
The Tapout XT fitness program includes 12 Workout DVDs, XT Pro-Grade Resistance Band, XT Training Leg Band, Fitness Guide, and Food Guide. It sells for 3 payments of $39.95 plus shipping and handling.
With your order of Tapout XT you'll also receive 4 free bonus gifts. It includes the Ultimate Abs DVD, Workout Calendar, 10-Day Slim Down Guide and the TapouT XT Workout Towel.