T-Core For Women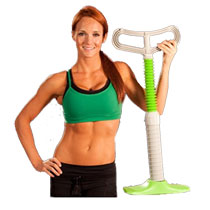 The T-Core is the brand new radicial core workout program for women. It can help you get flat, firm and sexy abs in as little as 6 minutes.
With T-Core For Women you can get that sleek and sexy hour glass midsection without doing all those situps and  cruches.
T-Core gets you off the floor and lets you exercise and tone your abs effectively from a comfortable seated position.
Normal core exercises on the floor can put strain on your neck, shoulders, and back. The T-Core lets you tighten your upper abs, lower abs, and obliques while sitting down.
You can tone and sclupt you entire midsection area and flatten your tummy with smooth and targeted resistance.
To target the upper ups you just center the T-Core. Move it to the side to work out those hard to reach obliques. Lean back for a leg raise to work out the lower abs.
Get the Flash Player to see this player.
With this currently introductory offer you can order the T-Core For Women for just $29.95 plus shipping and handling. You'll also receive the Common Sense Meal Plan along with the Six Minute DVD Workout for free with your order.