Ab Doer Twist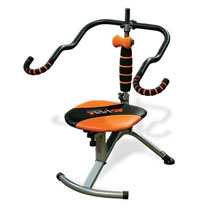 Experience an entirely new way you can use to get your body in shape and burn fat with the Ab Doer Twist. It is a unique, versatile, fun and productive way to get fit.
The AbDoer Twist allows you to work out all sides of your midsection in a single motion. This includes your abdominals, obliques and mid-to-lower back region.
With the 360 degree twisting action you can build lean muscle mass, tighten your core and burn away calories at the same time.
In addition, the twisting action will also work out your lower body as well. You will get sculpted your legs, buns and thighs. The AbDoer Twist gives you total body workout in just minutes a day and from the comforts of your own home.
With the Ab Doer Twist you get a workout that is both effective and comfortable. There is comfy seat and foam roller on the back that gives you a massage while you work out.
The AbDoer Twist is built with high quality, gym-grade steel and is made to last. You can also fold it up for easy storage when you are not using it.
Here's what you'll get with the AbDoer Twist system:
AbDoer Twist
Quick Start Guide
Accelerated Results Guide
Healthy Eating Plan Guide
Let's Get Started Instructional DVD
Beginner, Intermediate and Advanced Level Workout DVDs
Get the Flash Player to see this player.
The AbDoer Twist costs just $199.80 and comes with free shipping and handling. There is also an option where you can try it first for 30 days at home risk free by paying just $14.95. If you decide to keep the Abdoer Tiwst it after the 30 day period, it is only 4 monthly payments of $49.95.
Plus as a special bonus  you can also get a free Stainless Steel Powerstick System with your order. It is valued $100 and all you have to do is pay the extra shipping and handling for it.