Slendertone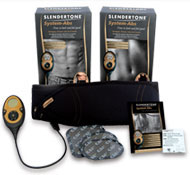 Now is the time to look and feel great with the Slendertone System. It an FDA cleared and new breakthrough solution muscle toning and strength training.
Slendertone is the most powerful, advanced, effective and convenient firming and toning product line on the market today.
It is designed to target specific areas of the body and along with a balanced diet and exercise see an amazing change in your life.
The technology used in Slendertone is the same used at hospitals and clinics around the world for strengthening and toning muscles.
It works works by targeting not just the muscles you can see, but also the muscles that are more difficult to reach with conventional exercise.
Slendertone is clinically demonstrated to strengthen, firm, and tone muscles in just weeks.
The Slendertone system includes:
Powerful advanced System control fits all System toning garments
Sleek, discreet abdominal toning belt
How-to Guide
GelPads
Rechargeable Battery Charger
Get the Flash Player to see this player.
Order the Slendertone System now for just $179.99 plus shipping and handling. It comes with free shipping and a 60 day money back guarantee.
Update: This offer has expired