Malibu Pilates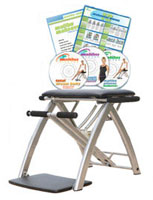 The Malibu Pilates Chair program is a new wave of body-slimming Pilates. It lifts, firms, sculpts, and burns fat for a slim and sexy body.
This amazing system designed by Carroll Krieff combines the sculpting power of Pilates along with the user-friendly cardio exercises.
With the Malbu Pilates chair, you'll sculpt your legs, arms, buns, and thighs while  toning your abs with every move you make.
Its custom split-step pedals can work your arms and legs individually or together for added resistance.
The Malibu Pilates Chair is sturdy, safe, and strong, yet so lightweight that it's easy to set-up and store away in seconds.
The Malibu Pilates system includes:
Malibu Pilates Chair with Perfect Abs Construction
Workouts to Slim and Tone DVDs
Malibu Makeover Manual & Eating Right Guide
Free Mari's Dynamic Sequencing Workout DVD
Free Malibu 10 Wall Chart
Get the Flash Player to see this player.
The Malibu Pilates programs retails for 6 easy payments of $49.95. Right now you can get a 30-day risk free trial by just paying $14.95 plus the cost of shipping and handling.