Jyze Pro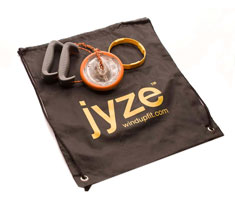 The Jyze Pro can help get rid of your flabby arms and burn up to 32% more calories while you walk.
It is a fun and effective exercise device that makes your walks as effective as  jogging or doing other aerobic workouts.
With the JyzePro you can get fit fast. It can deliver results in just 10 minutes a day.
Your arms and shoulders well get toned while you are burning calories. The secret is the adjustable handles that pull to keep the Jyze Pro disk spinning. This gives different levels of resistance that benefits the upper body muscles.
With the  lightweight design (less than1 lb), the Jyze Pro can travel with you for workouts anytime, anywhere workouts. You can use it while watching TV, walking, take it with your while traveling, and more.
Get the Flash Player to see this player.
The Jzye Pro system comes with Jyze Pro, Yellow Resistance Band, and Orange Resistance Band. As a special bonus it also comes with a free Quick Start Workout DVD and a free Jyze Pro Workout User Guide.
Order the  Jyze Pro Gym System today for just $19.95 plus the cost of shipping and handling.
Update: This offer has expired