The Midnight Special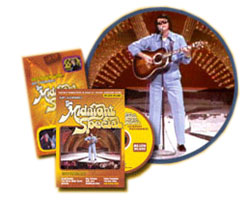 Burt Sugarman's The Midnight Special is the orignal late night rock n' roll concert show. The show spanned from 1971 to 1982 and featured some of the most amazing performances.
The Midnight Special defied the boundaries of late night television with live performances from artists of all genres. This includes Elton John, David Bowie, The Bee Gees, Fleetwood Mac, Aretha Franklin and much more.
Now you can own this amazing once in a lifetime collection of astonishing performaces. With each edition you'll receive an exclusive, legendary performance that was only on The Midnight Special stage.
All performances from the top artists during the time are live and not lip-synced.  The eclectic musical mix features  pop, rock, R&B, and country for every generation.
Plus these performances have been digitally re-mastered to the state of the art Dolby 5.1 surround sound. In addition, it also features classic comedy routines from top stand-up comics.
Get the Flash Player to see this player.
With this current special introductory offer you can get the first DVD in the series for just $9.95 plus shipping and handling. You'll also receive the exclusive Midnight Special 16-page booklet as a free bonus.
Plus you'll also have the option to receive 2 new Midnight Special volumes every 4 to 6 weeks for just $19.95 plus the cost of shipping and handling.