Simply Music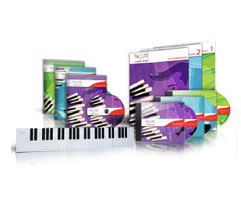 Simply Music is the breakthrough program that teaches you how to play the piano quickly. You can start playing great sounding music within your fast week.
This Australian-developed music learning program is playing based and no prior experience is necessary. It works for people of all ages.
With you Simply Music you get everything you need is included to conveniently learn to play the piano right in front of your TV or computer.
It is fast, fun, and affordable. There are no endless drills or boring scales. This revolutionary method allows you play and learn as you go.
Simply Music begins by distilling music into special techniques that unfold directly onto the keyboard, and allow you to interact directly with the piano.
Within weeks you learn to play contemporary, classical, blues, gospel, ballads accompaniments, and more. You'l develope a strong foundation for music.
Get the Flash Player to see this player.
The Simply Music system comes with 3 Instructional DVDs, 3 CDs with Great Sounding Music, 3 Reference Guides, and a Portable Piano Pad. It is 2 payments of $19.99 plus shipping and handling. Plus with your order you can get 40% off for a purchase of the Simply Music Keyboard by Yamaha.
Update: This offer has expired