Slim Ice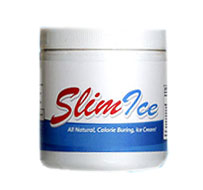 Slim Ice is the all natural, calorie burning ice cream. It provides a rich, creamy, and delicious experience while being the lowest calorie ice cream out there.
With SlimIce you make it for yourself in your own kitchen whenever you want in just 3 minutes. You simply mix, freeze, and serve.
In addition, Slim Ice is packed with calorie burning green tea and the antioxidant super fruit, the acai berry, to help you lose weight.
Now you enjoy ice cream and not worry about adding on pounds. You can replace meals and late night snacks with Slim Ice since each serving is under 80 calories.
Get the Flash Player to see this player.
Right now with this special free trial offer not only can you try a 15 serving bottle of Slim Ice for free but you'll also receive a free  measuring cup and a Ultra Max Mixer.
The Ultra Max Mixer is a powerhouse mixer that will give you a perfect blend every time. Plus it has 4 interchangeable extensions that is perfect for ice cream, shakes, mochas, scrambled eggs, and more.
You get all this free since the company is so sure you'll like Slim Ice that you will be coming back to purchase more.  You just have to pay the shipping and handling.
Update: This offer has expired