Lean Choices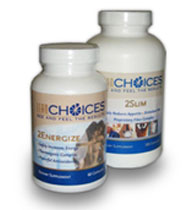 Lean Choices can help you lose weight and make you look better and feel better.
It it designed to safely reduce your appetite and trap and eliminate the fats from the food you eat.
Lean Choices is a 2 part system that inlucdes a bottle of 2Slim to minimize cravings and a bottle of 2Energy to help maximize your energy levels.
2Slim is a supplement that is rich in fiber and made with natural ingredients and herbs. It contains Glucomann which can expand up to 50 times its own weight when hydrated, causing you to feel fuller faster and therefore eating less.
Plus the fiber in Lean Choices 2Slim will help trap the fats from the foods you eat and gently eliminating them in order to prevent any weight gain.
2Energize is an all natural energy boosting supplement that is free of stimulants. It increases the body's metabolism and gives you boost of of energy level in order to help you burn more calories.
Get the Flash Player to see this player.
You order the Lean Choices system for just $29.95 plus the cost of shipping and handling. As a special bonus you'll recieve a free Menu Plan filled with delicous recipes created by master chefs.
Update: This offer has expired