Hybrid-7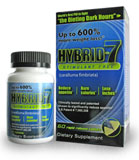 Hybrid-7 is the world's first stimulant free diet pill that works round the clock to burn fat and and shut down the late night munchies.
It is one of the most comprehensive scientifically advanced weight loss supplement ever created and is backed by over 7 clinical trials and two patents.
If being unable to control yourself from late night snacks is keeping you from losing weight, then Hyrbid-7 is what you need.
Hybrid-7 was developed as a diet product that can attack all components of weight loss from different standpoints without the use of caffeine or harsh stimulants. It can be taken any time of the day and especially at night to help suppress hunger while improving your metabolism to break down and burn fat around the clock.
The formula contains multiple components that make it a highly effective and safe weight loss solution. One component is a revolutionary natural appetite suppressant, called Slimaluma. Slimaluma is a high potency extract from the Caralluma plant.
Slimaluma has been the subject of two independent clinical weight loss studies. In both of these studies, the patients showed a significantly greater reduction in body weight, body fat and waist circumference.
The retail cost of Hybrid-7 is $79.98 for a 60 day supply. Currently there is a special online only offer where you can get a 14-day free trial of Hybrid 7 by paying $3.95 for shipping and handling.
Update: This offer has expired