Presidential Coin Collection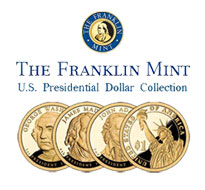 The Franklin Mint proudly presents the US President Dollar Collection. It features America's first four presidents; George Washington, John Adams, Thomas Jefferson, and James Madison.
These are the first coins ever struck by the U.S. Mint in honor of the US Presidents. Each piece is in brilliant, uncirculated condition.
 The Presidential coins are layered in luxurious and beautiful 24 kt gold. Plus they are sealed in acrylic protective cases by the Franklin Mint.
Each of the coins were limited to a minting period of just 90 days, ensuring instant scarcity. This makes the Presidential Coin Collection a great item for any collector.
Each coin has also been encapsulated with a hologram "Mint Security Seal" by The Franklin Mint and is signed by Jay Johnson, the 36th Director of the US Mint.
Get the Flash Player to see this player.
You can order the first 4 coins of the US Presidential Dollar Collection for just $9.95 plus the cost of shipping and handling.
As a special bonus you'll receive a free Museum-Quality Cherwood Display Case, a Certificate of Authenticity, and biographies on the presidents.