Wonder Hanger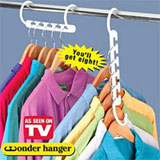 Are you running out of closet space? Then the Wonder Hanger is the perfect space saving solution for you.
You can instantly triple your storage space. They are the ultimate space saver for any closet.
Crowded closets means wrinkled clothes. Use Wonder Hangers to help keep your clothes neat and wrinkle free.
Wonder Hangers fit any wood, metal, or plastic hangers. They can hold up to 20 pounds each.
Each one is strong enough to hold up to 5 heavy winter coats. They are also perfect for purses. Use Wonder Hangers to organize your favorite ones.
Get the Flash Player to see this player.
With the current special buy 1 get 1 free offer, you'll get a total of 10 Wonder Hangers (Enough to hold 50 garments), 4 Bend A Hangers, and 2 Ultra Bright Lights for just $9.99 plus the cost of shipping and handling.
Update: This offer has expired