Just Air Backpack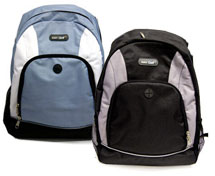 Having to carry numerous textbooks and other heavy items around in a standard backpack can hurt your back.
But with the Just Air Backpack, you can experience the health benefits of a cushion of air.
Just Air Backpacks protects you and your family from injury and stress caused with ordinary backpacks.
Its patented breakthrough system uses a cushion of air that helps evenly distribute weight across the back and shoulders.
This decreases back pain caused from regular, conventional carrying bags. Plus you can easily and quickly adjust the air pressure with the push of a button.
There are also built-in lumbar chambers thats adds additional lumbar support. Just Air Backpacks have been field-tested and endorsed by orthopaedic, pain management, and chiropractic physicians.
Get the Flash Player to see this player.
Just Air Backpacks are available in Black or Blue Powder. Order now for just $29.99 plus the cost of shipping and handling.