Chic Shaper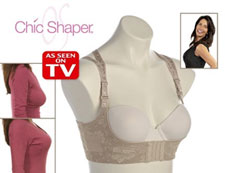 The Chic Shaper is the amazing undergarment that helps lift, correct and perfect your bust size.
Women everywhere are feeling and looking confident vibrant thanks to the Chic Shaper.
The instant results it provides will help get you noticed.
Not only does the Chic Shaper give you an amazing lift, it also helps correct your shoulders to give you a perfect posture.
The Chic Shaper is easy to put on and is comfortable to wear. The removable multi-strap allows you to wear the Chic Shaper under almost every type of clothing.
Get the Flash Player to see this player.
When you order the Chic Shaper for 2 easy payments of $19.99 plus shipping and handling, you'll also receive a set of clear straps that are perfect for evening wear.
But that's now all. Order now and you'll get a second Chic Shaper for free offer. That's 2 Chic Shapers and 2 sets of clear straps. Just pay additional shipping and processing.