Bralief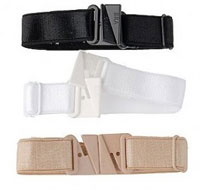 Bralief is the original bra clip ever since 2004. It is a premium breast lift solution that is made with an elastic adjustable band.
You can adjust Bralief to wide or narrow straps for better comfort. Customize it to your bathing suit or tank top.
Women love this amazing bra clip because it provides an instant breast lift comfortably while keeping straps perfectly on their shoulders.
With Bralief you can  look slimmer by fitting in the a-line of your blouse. There's no more falling straps and you can enhance your appearance , contour and shape.
Bralief will work on all types of bras, bathing suits, and tank tops. If you need more length, you can simply clip two of them together.
Get the Flash Player to see this player.
Right now with this special offer you can get a 3 pack of Bralief for just $19.99 plus shipping and handling. It includes a black bra clip, a nude bra clip, and a white bra clip.
In addition, you'll also receive a Pedicure Kit absolutely free with your order. Plus Bralief comes with a lifetime guarantee.