What Odor?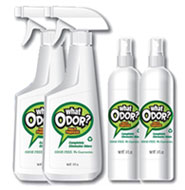 Don't just mask odors, eliminate them with What Odor? . It is the natural multi purpose odor eliminator that can get rid of any smell.
What Odor is non-toxic and is completely safe to use around children and pets. It is made with 41 natural essential oils.
Use it to get rid of pet odors and cooking odors. Use it on the sofa, laundry hampers, sports equipment, sneakers and more.
It can eliminate the smell of smoke on clothes, drapes, carpet and even cars. What Odor can get rid of embarrassing odors in the bathroom with just one spray.
It eliminates smelly garbage can odors and a pail of dirty diapers. It is even strong enough to get rid of the stinkiest smell of all, the skunk.
The formula in What Order is 100% biodegradable and with every purchase the company will even plant a tree.
Get the Flash Player to see this player.
Take advantage of this special buy 1 get 1 free offer and you can get a total of  2 (two) 16 ounce bottles of What Odor and 2 (two) 6 ounce travel size bottles for just $19.99 plus shipping and handling. That's $60 total value.
Update: This offer has expired