Out! Instant Stain Remover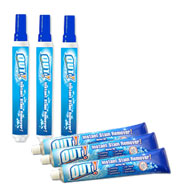 Out! is the incredible instant stain remover you can use everywhere. It works like magic and will get rid of tough stains with ease.
Use Out! Paste on tough stains from food, oil, perspiration, grease, grass, ink, dirt, red wine, pets stains, and more.
It well work on almost any type of material. This includes clothing, carpeting, upholstery, leather, vinyl, metal, hands, and much more.
Out! is gentle but at the same time effective. It will eliminate stains on fabrics with causing any discoloration.  You can save money and avoid throwing away stained clothes.
Plus Out! can also be used safely to clean tough stains on your hands. Whether it is ink, coloring, or axle grease, Out! will get rid of the stains like magic.
Get the Flash Player to see this player.
Normally a single tube of Out! along with an Instant Stain Stick costs $19.99 plus shipping and handling.
But right now with this special triple offer you'll receive 3 tubes of Out! and 3 Instant Stain Sticks for just $19.99. You just have to pay the additional shipping.
Update: This offer has expired