Dean Graziosi Profit from Real Estate Right Now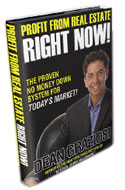 The time to invest in real estate is now when the market is down and investments are plentiful and cheap.
You can easily learn how to profit from real estate with real estate guru Dean Graziosi's new book, Profit from Real Estate Right Now.
In the book you'll learn how to capitalize on the current market conditions and make your dreams of being financially independent come true.
Dean's first book, Be a Real Estate Millionaire, was a New York Times best seller and the #1 selling real estate book for 18 months.
Now his new Profit from Real Estate Right Now book has taken the top spot and comes with new and update techniques.
There are 4 simple reasons that books from Dean Grarziosi stand above the rest. First, it uses cutting-edge strategies. There are no outdated materials or fluff.
Second, it is seriously effective. Students of Dean have made their first $2,000 to $10,000 in just 30 days without any money or credit.
Third, there is minimal commitment required. The system comes with a laid out action plan which only requires a couple of hours a week.
Last but not least they are risk free. Dean is so confident his books will be your guide to real estate success they come with a money back guarantee.
Get the Flash Player to see this player.
You can order Profit from Real Estate Now for just $19.99 plus the cost of shipping and handling. But there's more.
You'll also receive Dean's original best seller, Be A Real Estate Millionaire, free. That is a $24.95 value free. You just have to pay the additional shipping.
Update: This offer has expired