PediPaws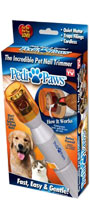 PediPaws is the revolutionary nail trimmer for your dog or cat. It's the newest, fastest and easiest way to keep your pet's nails trim, rounded, and smooth with no mess!.
Say goodbye to scratched furniture and floors with PediPaws. It won't splinter, crack, or break nails like traditional nail clippers would.
The trimmer is pain free on your pets, lessening the chances of them running away when trimming their nails. It is cordless and runs on batteries to make it more convenient to use.
The secret to PediPaws is the precision filing wheel that gently removes thin layers of nail to leave your pet's paws soft and your items in your home safe from scratches.
The unique protective cap allows only the perfect amount of nail to be removed and collects all the filings so there's no mess.
Get the Flash Player to see this player.
Through this exclusive online offer, you can purchase PediPaws for $19.99 plus $7.99 for shipping and handling and get a free bonus Shed Ender. All you have to do is pay the additional shipping cost for it.
Shed Ender is a professional de-shedding tool for dogs and cats. It removes shedding hair trapped in the undercoat and makes their topcoat shine.