EvoraPet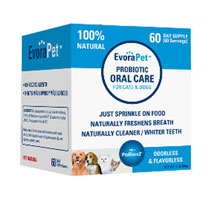 EvoraPet Oral Care is one of the very first probiotics oral care solution for dogs and cats. It'll help keep your pet's mouth clean and their teeth white.
The formula is specifically formulated in address the main oral care needs for pets. It is 100% natural and is made in the USA at a FDA certified facility.
To use EvoraPet, you simply sprinkle it on pet's food once a day. It does not have any taste or odor, so it won't change the taste of your pet's food.
The formula will help freshen your pet's breath naturally, make their teeth whiter and their mouth's cleaner. It is perfect for pet's with bad breath or yellow, stained teeth.
The key ingredient in EvoraPet is ProBiora3, a patented combination of beneficial bacteria. ProBiora 3 works by reducing the bacteria which causes bad breath in your pet's mouth. And the natural whitening agents in ProbBiora3 helps eliminate stains from tooth.
EvoraPet provides a much simpler and more effective solution than having to brush your pet's teeth with a toothbrush. Most pet's hate this, especially cats who don't like having their mouths touched. With EvoraPet you just sprinkle it on, let pets enjoy their food, and they'll have fresher breath and cleaner teeth.
Get the Flash Player to see this player.
A 30-day supply of EvoraPet sells for $14.95 plus shipping and handling. Or you can get a 60-day supply for just $24.95 plus shipping and save $10.
EvoraPet also offers a 60-day autoship program where you can receive a new 60-day supply of Evorapet every 2 months for just