Temptu Airbrush Makeup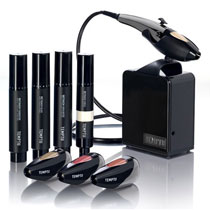 Temptu is a home airbrush makeup system that gives you a flawless look just like celebrities. It is the first airbrush makeup solution that is designed for every women and everyday home use.
Unique to Temptu is their airbrush foundation with Silksphere technology. Unlike regular makeup which can settle into creases and pores, it gently sits on top of the skin to cover skin imperfections and create a natural radiant glow.
Using Temptu is easy and convenient. In as three as just minutes, you can have a gorgeous and naturally flawless look without having to deal with brushes, sponges or other hassles that comes with traditional makeup.
Not only does airbrush makeup from Temptu look better, it is also one of the most hygenic way to apply makeup. Ordinary liquids and powders are often exposed to bacterial contamination but Temptu airbrush makeup are stored inside AIRpods which always remain 100% clean and untouched by human hands.
Plus the revolutionary formula of Temptu is able to give  you a full, flawless coverage with only two tiny drops. You'll be applying almost 75% less makeup and getting a more natural and beautiful.
All you need to a feather-light mist for a flawless coverage. It won't settle into pores or emphasize your wrinkles like regular makeup. Plus the long lasting formula is resistant to water and sweat.
In addition, Temptu airbrush makeup feels exceptionally lightweight and is breathable. The makeup is also hypoallergenic, oil-free,  and won't clog up your pores.
Get the Flash Player to see this player.
The Temptu Flawless Fast Starter Set comes with the Signature Compressor with AIRbrush, AIRpod Foundation with Silkspheres, AIRpod Blush, AIRpod Highlighter, Care and Usage & Practice Sheets, and a How to DVD.
It sells for around $225 but currently you can take advantage of a trial offer and try it first for 30 days by paying just $29.95 with free shipping. If you decided to keep after the 30 days then it is 4 monthly payments of $49.95.
Also as a bonus you'll receive a set of 3 free gifts valued at $50. It includes an Undereye Concealer, Travel Bag, and a AIRsystem 3 Pod Holder to hold your Temptu AIRpods.