Roll N Grow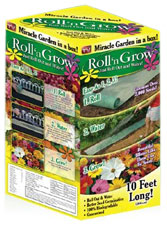 Roll N Grow is the amazing miracle garden in a box. It takes the hassle right out of garden.
Forget about having to shovel, rake, and dig. Just roll out the Roll N Grow floral carpet, water and let nature do the rest.
Beautiful flowers will start to bloom within weeks. You will have thousands of flowers wherever you want.
Simply cut Roll N Grow like a cloth and fit them into plant pots on the terrace or window boxes on the patio. You can cut it in half and get up to 20 feet of edging for your driveway or walkway.
Each Roll N Grow carpet has over 1000 seeds and all the nutrients needed to blossom into a rainbow of fantastic flowers.
They are also biodegradable and environmentally friendly. Plus they are able to retain moisture and suppresses weeds.
Roll N Grow includes all your favorites flavors. They include Baby's Breath, Scarlet Flax, Crimson Clover, Calendula, Cornflower, Larkspur and Poppies.
With Roll N Grow you can save money as well as take the hassle right out of gardening.
Get the Flash Player to see this player.
Order Roll N Grow now for only $19.95 plus shipping and handling. The flower carpet has over 2,000 seeds.
Update: This offer has expired