Lavender Garden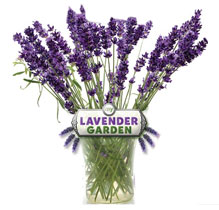 Now you can have grow beautiful lavenders all year long from spring to fall with the Lavender Garden.
You'll have majestic lavenders from spring to fall and have beautiful blooms year after year.
If you are tired of having to plant a new garden every year then the Lavender Garden is the perfect solution for you.
You'll can grow hundreds and hundreds of delicate, fragrant lavender flowers that blossom forth on each and every plant.
The fragrant, royal- tinted spires grow to almost 12 inches in length from June to first frost. And each plant is fully crowned with bushy, silver-green foliage that can reach up to 11/2 feet high.
Get the Flash Player to see this player.
Lavenders are great to have almost anywhere, whether they on patio or decks or for indoor floral arrangements. Plus put they in a sachet and they make a natural air freshener.
Normally a set of 3 My Lavender Garden plants is $9.99 plus shipping and handling but currently there is a buy 1 get 1 free offer available. You'll get a second set of 3 Lavender Garden plants for free, just pay for the additional shipping cost.