Ghost Chili Pepper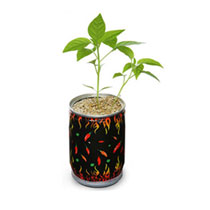 The Ghost Chili Pepper (bhut jolokia) is the world's hottest chili pepper as confirmed by the Guinness Book of World Records and now you can grow your own at home.
The bhut jolokia comes from India and is 300 times hotter than your standered jalapeno and over three times hotter than the already hot as heck habanero.
The Ghost Pepper is the latest agricultural phenomenon and one of the few flaming hot pepper that you can easily grow yourself at home. You can grow it, admire it, eat it and brag about to your friends and family.
With the Ghost Chili Pepper all you have to do is add water and wait from it to grow. They grow best indoors and in direct sunlight. Sprouts will start to appear in a few days and within 3 to 4 weeks they should become full plants.
You can also grow the Ghost Pepper outdoors too if you want. They are great to use in your garden for detering away troublesome insects, pests, and unwanted animals.
The Ghost Pepper is generally hard to find in the market but the Ghost Chili Pepper In a Can lets you have them fresh whenever you desire. They make a great addition for soups, stews, chili, and salsa.
Get the Flash Player to see this player.
Each Ghost Chili Pepper In a Can comes with complete instructions and normally sells for $10 plus the cost of shipping and handling.
But right now you can take advantage of a special offer and get a free Cherry Pepper Plant with your order as well. All you have to do is pay the extra shipping cost for it.