YoshiBlue Skillet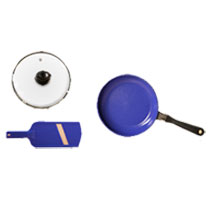 The YoshiBlue is a new diamond skillet that  never sticks and the coating will never chip away. The advanced cooking surface makes it one of the greatest pans ever.
The surface of YoshiBlue is made with nano-ceramic that has been infused with genuine diamond particles. It never sticks, so the surface will always remain looking like new.
The diamond and nano-cermaic surface cooks much better than other non-stick pans, making them obsolete. This futuristic cooking surface makes cooking easier and healthier too.
When using the YoshiBlue Diamond Skillet you won't need to add any oils, fats or greases to cook mouth-watering meals. So you can enjoy healthy food that tastes great.
With other non-stick pans the coating chips off over time and this can lead to harmful toxins getting into your food. With the YoshiBlue you won't have to worry because the surface won;t chip away.
Plus cleaning up YoshiBlue is simple too because no matter what you are cooking, you can just wipe it clean afterwards. Even melted sugar or cheese can be easily wiped off.
Get the Flash Player to see this player.
A single Yoshi Blue Diamondware Skillet sells for just $19.99 plus the cost of shipping and handling. As a bonus it also comes with a matching Venting Glass Lid for free. Just pay the additional shipping for it.
Plus you'll also receive a Ceramic Mandolin Slicer that is valued at $25 for absolutely free with your order. It slicse fruits and vegetables with ceramic precision.