TastiWave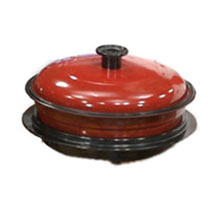 Now you can make fast homemade meals right from your microwave that taste great with Chef Tony's TastiWave Cookware.
The TastiWave is cookware that is made for the microwave and lets grill, sear, roast, bake, steam and fry all your favorite foods.
You'll get the speed and convenience of a microwave but the great taste of conventional oven tastes. The TastiWave works turning  microwave energy into cooking energy.
Use the TastiWave to grill steaks or chicken to perfection quickly, complete with grill marks. Make delicious seafood or steamed vegetables to your liking. It works great with both foods that fresh or frozen.
The secret is the Cyrotech space aged material used that absorbs microwave energy and converts it into cooking energy and creates heat. This delivers the same great taste as normal cooking but in a fraction of the time.
Get the Flash Player to see this player.
The TastiWave comes with the base, griddle pan, steamer insert, dome lid, grill pan, grill press, and Chef Tony's Quick Cook Recipe Guide.
You can order the TastiWave cookware for $39.95 plus the cost of shipping and handling. It comes with a 60 day money back guarantee.